Low Home Inventories Turn Many to Home Construction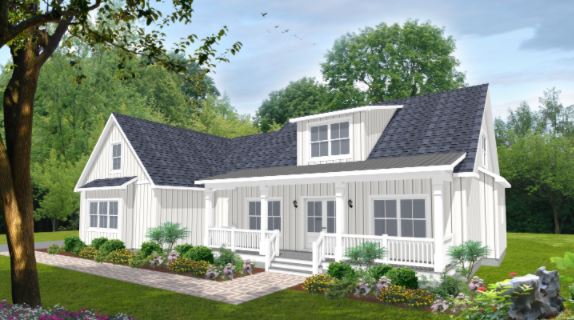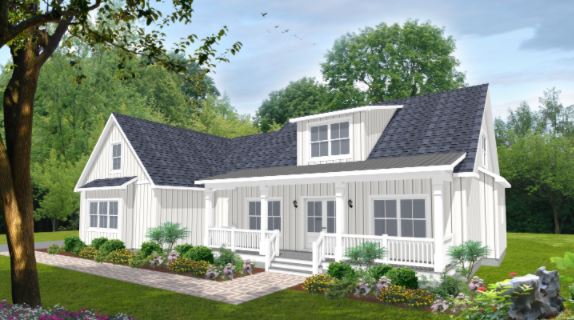 Existing home inventories are at an all-time low. There are very few good houses on the market for sale. If a good home finds its way to the market, then there is a bidding war for it driving the price upward for the eventual winner. And this story is repeated everywhere across the country. This is driving many people to look at new construction. But even new home construction can't keep up with demand. Homebuilders and developers are burning their candles at both ends just to try and keep up.
Now let's add in record-breaking lumber prices, and the ever-increasing prices, and the scarcity of building supplies such as windows and doors. The COVID-impacted construction supply chain struggles to meet the demand for building materials. But the good news is the low-interest rates! Rates continue to hover at all-time lows. But even an increase of just 1% could drive many would-be homebuyers completely out of the market. The pressure is on this spring to get a home. This is turning many that thought they would be buying an existing home into the builders of their new home.
Record-Breaking Low Home Inventories
According to Freddie Mac, in 2020, there was a supply shortage of 2.5 million units. That's a lot of homes that need to be built. Home construction in the U.S. would have to more than double over the next several years to even make a dent in the shortage. And that just isn't going to happen. Labor shortages are rampant in the construction industry. After the great recession, many trained and skilled workers left the industry for good. Homebuilders are still reeling from the loss of labor, and the nation's school systems and vocation/technical schools aren't creating newly trained replacements fast enough.
Now let's add the COVID effect. Many that are in apartment housing in cities have decided to flee to more open areas and are looking for single-family homes to live in so they can have more separation from their neighbors. What that means in 2021 is that builders are going to be really busy. Because existing home inventories (used homes) are at record lows, home builders are getting booked quickly. In the first quarter of this year, many builders have already booked out their entire build schedule for the year. As a home buyer, that means your dream of homeownership in 2021 is in peril if you don't act soon.
Record Low-Interest Rates
Rates today average 3.23% for a 30-year mortgage. This is historically still a great rate. However, in comparison, rates just a few years ago hovered in the 4% range. With the current economy, interest rate increases are inevitable as the government tries to reduce inflation. Interest rates impact your buying power. For every .5% (one-half) percent increase in interest rate, your purchasing power may be decreased by 4 to 5 percent (the percentage is smaller for lower loan amounts). For every 1 percent interest rate increase, your purchasing power may be decreased by 9 to 11 percent (the percentage is smaller for lower loan amounts). The spike in materials costs has driven up home prices drastically over the past 9 months, especially in the last 3 months. This coincided with the lowest home mortgage interest rates ever recorded! Once interest rates rise, payment amounts on a $300,000 house could increase by $150 a month or more with a 1% increase. That could mean that many may be locked out of homeownership for the foreseeable future because that house just became unaffordable.
The Advantages of a New Home vs. a Used Home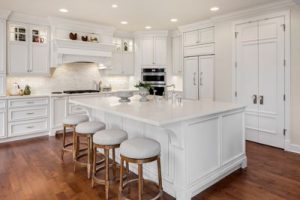 Buying a used home is usually less stressful than building a home because you have fewer decisions to make. After all, the house is already built. This makes the timeframe from the purchase decision to move in much faster.  But, depending on the age of the home, buying an existing home means buying all of its problems. About half of the average house needs replaced during its first 30 years. The big dollar items include the roof, the heating and cooling system, and the home's appliances. And on top of all that, it's just hard to find a good, used home!
While building a home will take longer there are several advantages that can far outweigh the initial stresses of all the decisions that will need to be made. Here are a few:
You Get to Choose Your Floor Plan and Colors – When you build a home, you get to design it for the way you live. With new construction, you get to pick everything from flooring to countertop and cabinet colors. You can choose bathroom finishes and lighting and even faucets and sink styles. Your new home is built for you!
Do you want a $50 Power Bill? – A $50 energy bill may sound crazy. But with planning and design, it is possible with new homes today. If adding high-performance options to your new home requires you to add $100/month to your home payment, but you can save $300/month in an electric bill, most people would make that trade every month! Even without adding the energy-efficient technologies to a new home, homes today are far more energy-efficient than a home that was built even just 10 years ago. Homes today are just more comfortable to live in.
Throw Away the Inhaler –  Because of new energy codes that are in force today, homes have to be more energy-efficient. While this can save money on energy bills, it makes the home much tighter (in other words, they don't have any ventilation). Now homes must have other methods to introduce good air into the home and filter it. Combine this with much better materials, and the indoor air quality is much better than an equivalent older, existing home.
Choosing a Way to Build
The term "stick-built" is really a term that traditional builders use to "fake" quality. It is really a diversionary tactic; it confuses the issue. A home built off-site, in a factory is also stick built. It is built by putting a collection of wood framing "sticks" together to frame a home. It just happens to be built offsite and then delivered to the site, where a collection of modules are assembled in hours or days into a virtually completed home. If a homebuyer would just take a few minutes to compare the differences in their mind it would become obvious very quickly why stick building indoors is much better then stick building outdoors.
RELATED: WHAT TO EXPECT WHEN YOU'RE EXPECTING… A MODULAR HOME
Modular construction means more, if not most, of the pieces used to build a home are pre-assembled off-site. Sub-components and components are assembled into modules. These large modules are then shipped to a home site on carriers by large trucks and assembled in LEGO-like fashion on a foundation (that could also have been prefabricated off-site). What modular construction does is reduce or eliminate many of the risks in construction.
Learning about Construction Loans
When you buy an existing home, you know the price, and the home is 100% ready to move into. That means the bank will give you a mortgage, you pay the seller, and then you move in. When you build a home, there is typically a construction loan, in the beginning, to build the home and then the 30-year mortgage that pays off the construction loan because the house is built and 100 ready to move into. There are some nuances to construction loans. Let's discuss a few.
One of the biggest misunderstandings that homebuyers building their new home have is that they need to get an estimate or quote and take it to the bank to see if they qualify for it. It is actually the opposite!! The very first thing you should do is go to a lender and get prequalified or preapproved.
The final process of getting approved for a construction loan and a home mortgage is much the same. It can be a lot of paperwork but the bank wants to make sure they have all of your information required by Fannie Mae or Freddie Mac to make sure they can sell your loan later and then loan the money again! A construction loan is typically given for a short period, say 6 – 12 months, and then at the end the final payment is due to close it. It is also typically given at a rate that is about 1% higher than a 30-year mortgage. It is riskier to the bank. But don't worry about it. That rate only applies as money is drawn on the construction loan, and the payments are for interest only. Once you finish construction, the 30-year mortgage pays off the construction loan, and you move into your new home!
Modular Means a Smoother Path to Homeownership
Modular construction takes home construction and turns it into a manufacturing process. By becoming a manufacturing process, this means that automation can be applied to create many of the components of a home in a factory environment. These high-quality components can then be assembled into a larger component (or module), creating high quality, energy-efficient, well-designed, value-driven, and very custom home.
The next time you drive by a car dealership and see the safe, stylish, and high-quality cars, think about it. Why would anyone in their right mind still buy a car built in their driveway like was done over a hundred years ago when a modern alternative exists? As a custom home builder, we have done that analysis. That is why we choose to only use modular construction to deliver custom homes to our customers.
The post Low Home Inventories Turn Many to Home Construction appeared first on Impresa Modular.