Harnessing the Power of Off-Site Construction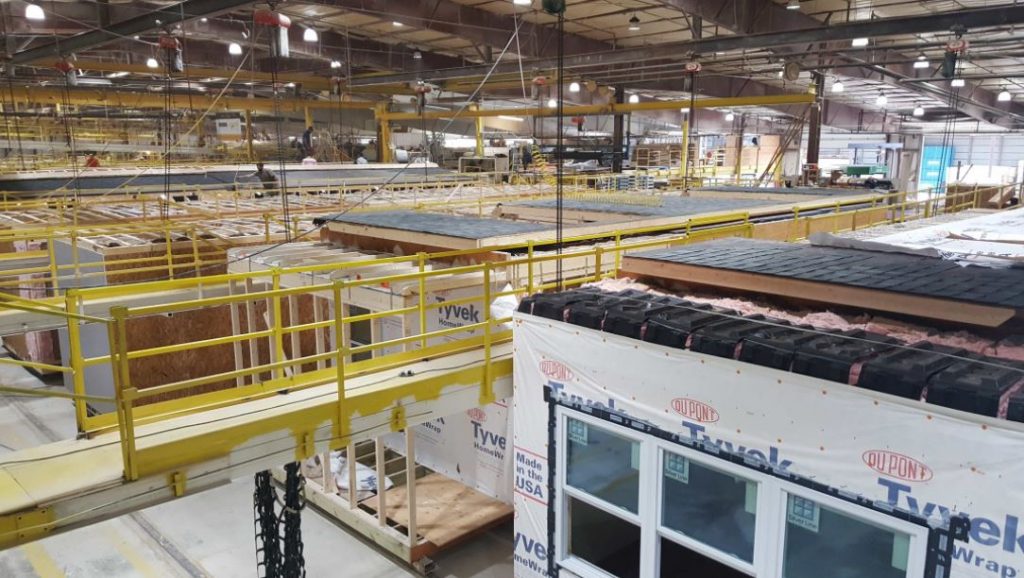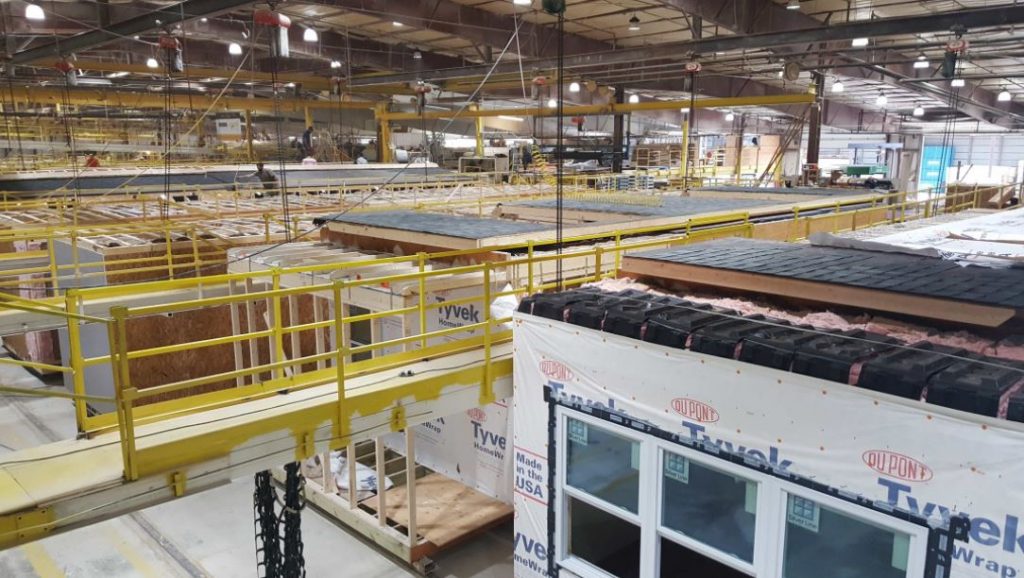 Residential off-site construction is the term used to describe the manufacturing, planning, design, fabrication, and assembly of a home's elements at a location other than its final installed location. Building off-site allows for a home to be built more efficiently and faster. In some cases, the parts or elements of a home could be built at several locations and then transported to the job site for final assembly. Off-site construction is meant to optimize the planning and materials supply-chain for building a home that is better constructed and more cost effective than one that is built on site in the field. But how can you optimize off-site process itself? How can you get the best of the best of off-site?
Replacing "Stick-Built" with "Systems-Built"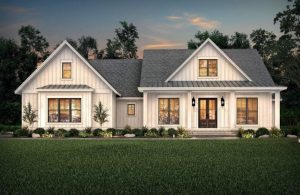 Today's site builders always refer to stick-built homes as if they should equate to a quality built home. Actually, the opposite is true. Think about it. Do you believe workers can work in the mud, wind, heat, cold, etc. on unlevel ground and measure and cut lumber accurately? Do you believe walls and floors can be built with precision and consistency outside? Can windows and house wrap be installed properly from ladders? Most stick builders have dabbled in off-site construction. That is what a roof truss or a floor truss is. And why are stick builders using them? Because they know they are stronger, built consistently better, and are cheaper than doing the same thing onsite. However, they just won't apply off-site construction to the rest of the houses they build.
A system-built home takes it to the next level. Instead of just using roof trusses or floor trusses, the whole house is built using systems. With modular construction, this could be subcomponents that are built and then installed into larger components. Those components get installed on the floor assembly. Walls are built and installed on the floor assembly. Ceiling/roof assemblies are built and installed on the larger assembly completing a volumetric "box". The complete construction process is engineered. The weather has no impact on the precision of a cut. Water doesn't get on floors to be absorbed into the wood. A home is built efficiently and cost-effectively. Waste is minimized. Reduce, reuse, recycle is the theme in systems-built construction.
Construction with Building Systems
The National Association of Home Builders recognizes four building systems. However, there are other construction methodologies that can be used to construct homes or portions of homes. Here is a brief overview of each one:
Panelized Construction – Within panelized home building there are several subcategories. Two of the main ones being basic panelized construction and another one known as Structural Insulated Panels (SIPS). Using basic panels, a home plan is divided into wall and roof sections and is framed off-site in a factory. The panels are then loaded flat on large trucks and delivered to the site. Each panel is coded and the entire home is assembled, much like a puzzle with the coded pieces. However, the panels typically do not contain plumbing, electrical wiring, and finished interiors or exteriors. This requires all of the onsite completion by trades as is typical with traditional onsite construction.
SIPS are considered a high-performance building system that consists of an insulating foam core that is sandwiched between two structural facings. These facings can be OSB, fiber-cement board, etc. SIPS are considered one of the most airtight and well-insulated building systems making them an inherently green product. With SIPS, the plumbing, wiring, and interior/exterior finishes have to be completed onsite as is typical with traditional construction.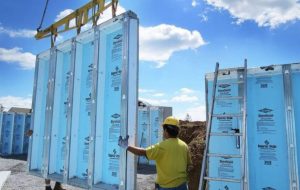 Concrete Construction – Most think of concrete construction for commercial buildings. However, there has been a growing interest and use of concrete for residential construction. There are several methods to utilize concrete including: Insulating Concrete Forms (ICF), Panel Systems, and Removable Forms (cast in place). ICFs have established themselves as environmentally friendly and consist of modular blocks or panels that encase concrete between two layers of insulation.
Panel systems are typically precast and then placed with a crane. There are precast panels that are cast off-site at a manufacturing facility and then trucked to the site for installation. This is the more typical type for residential construction. Removable forms are what most think of for foundations. However, when casting above grade, foam insulation is typically placed in the forms before pouring begins. This results in a solid wall with high thermal mass.
Modular Construction – The term "modular home" is really a misnomer. It is a term for a home that is built using modular construction. Modular construction consists of many modular subassemblies built and assembled in an environmentally controlled factory that are assembled into a larger component, or module. That module is then shipped to a building site, combined with other modules, and assembled into a finished product.
Many have heard that since the great recession, there is a labor shortage in the building industry. This means that quality labor is hard to find. The best subcontractors that are out there, because of supply and demand, are raising their prices, thereby increasing the cost of new home building. Modular construction allows a builder to control his costs by having much of the home built in a factory. The plumbing, electrical, mechanical, and many interior/exterior finishes are completed in a factory. This reduces the need for dependence on expensive onsite labor. Most homes built using modular construction are delivered to the site 75-85% complete. Weather, as a factor in construction, is virtually eliminated. A healthy living environment is promoted by keeping rain and moisture out of the home and its walls during construction, unlike with traditional site-built homes, reducing the risk of mold and mildew growth.

Componentized Construction – A component is a part of a building or subpart of a building that is manufactured as an independent unit, subsystem or subassembly, that can be joined or blended with other elements to form a more complex item. That's the official definition. When it comes to factory home construction, an example of this could be building header subassemblies or subcomponents. As the walls are built in jigs or on tables, the header subassembly is placed into the larger wall assembly. That wall assembly is then placed on a floor system to begin to create the modular or volumetric box.
In the field, components could be pieces that are assembled such as porch roofs or dormers. These are ready to be placed in precut openings in the roof for dormers or onto preinstalled ledgers on exterior walls for porch roof assemblies. Component use field makes modular installation much faster.
The Advanced Modular Off-Site Solution® (AMOSS)
The Advanced Modular Off-Site Solution® or AMOSS® is Impresa Modular's approach to off-site construction. It is the approach we take to design and build our custom modular homes. Modular construction is a great way to build and deliver highly custom homes to job sites. However, for efficiency and, in many cases, to extend design options, combining building systems just makes sense. Impresa Modular, while using modular construction, is the base for our home construction, always takes advantage of multiple off-site building systems to produce our homes.
For example, a home is designed with modules that are built in a factory. Roof sections are typically panelized for either design aesthetics or speed of installation on the job site. Components such as dormers or porch sections are used to quickly close in roofs and openings onsite while at the same time enhancing the design and livability of the home. Even off-site concrete construction is used. When building in many areas, we use Superior Wall. This is a concrete building system that creates portions of the foundation wall off-site for delivery and installation onsite. Combining these systems means we can offer almost unlimited design options, unparalleled installation efficiency, and cost-effective custom construction. That's AMOSS® and that's Impresa Modular.
The Future of Home Building is Offsite Modular Construction
The future of home construction is in off-site construction. Homebuyers are demanding more from their home. To maximize design, construction, installation, and delivery efficiency, you can't do it using just one building system. It takes the power of every available system to deliver the ultimate home product.
In today's construction environment, just using roof trusses or floor trusses isn't enough. To be efficient, to be cost-effective, and to accelerate construction timeframes means using off-site construction. The art of delivering on all of these lies in harnessing the power that is inherent in available in all of the off-site construction methods. And that is what AMOSS® does!
The post Harnessing the Power of Off-Site Construction appeared first on Impresa Modular.