Lemmings are small rodents that have been known to follow each other as they charge to their deaths off the edge of cliffs. This is actually an unsubstantiated myth about Lemmings, but they've become a metaphor for people who go along unquestioningly with a group with potentially dangerous consequences. Buying a home has become much the same way over the years. There are lots of homes built using the traditional method of construction; that means building outside, using the cheapest products available, rushing to get the job done, and using unskilled labor in skilled positions because of the current labor shortage. It doesn't make sense to buy or build a home using the old methods because that is what has been done in the past. Homes built using modular construction are more resilient, more energy efficient, and healthier and more comfortable to live in.
What is Off-site Construction?
The term off-site construction means that some or most of a home are built at a location that isn't its permanent location. Many think that off-site or modular construction is new, it's not! In the 1800's, everything was built on the home site. This included windows and doors. Eventually, builders determined that windows and doors could be more efficiently and cost effectively built indoors in a factory and then delivered to the site. This concept grew to include more and more components that were historically built onsite. In the 1830's an English company start to use modular construction by building homes in England and shipping them to Australia.
After another 100 years, the modern roof truss industry was born in 1952. Trusses took a while to be adopted by builders that were used to building roof rafters onsite for every home. Old school builders didn't understand them and believed the way they had always done it was the best way. However, they soon discovered that their high strength-to-weight ratios permitted longer open spans, which meant greater flexibility in floor plan layouts. They could also be designed in almost any shape or size. Roof trusses were built off-site and their only restrictions were manufacturing capabilities, shipping limitations and handling considerations.

The industry has almost entirely adopted roof trusses. However, there are still a number of builders that have resisted them and continue to build rafters onsite. Next came floor trusses. And for all of the same reasons. The most important take away here is that trusses can be built off-site that are engineered to be stronger, that are more cost effective, and that can be installed onsite faster than rafters built the traditional way. The natural evolution of construction now leads us to the next leap forward.
The Evolution of Home Construction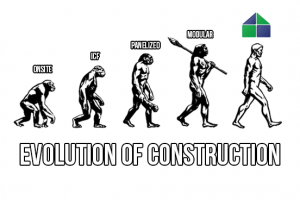 There are several off-site methods of construction. One that is used by many production builders is panelized construction. What this means is that the skeleton of a home, the home's framing, is broken down into panels (i.e. pieces or components) that are built on jigs or automated machines. These panels typically include walls and floors that are pre-assembled off-site and then trucked to the home site. There, they are assembled and then roof trusses are added. Instead of a home's frame being built onsite, one stick at a time, the home is actually assembled by placing the prefabricated panels together. This can save several days in the process and lead to better quality. However, everything else still has to get done onsite. This means that the home is susceptible to many of the same issues that come with building onsite.
Modular construction means more, if not most, of the pieces used to build a home, are pre-assembled off-site. Sub-components and components are assembled into modules. These large modules are then shipped to a home site on carriers by large trucks and assembled in LEGO-like fashion on a foundation (that could also have been prefabricated off-site). What modular construction does is reduce or eliminate many of the risks in construction. These risks include: Schedule Risks, Scope Creep/Change Orders, Weather Issues, Skilled Labor Dependencies.
The Old Ways of Doing Construction Make is Riskier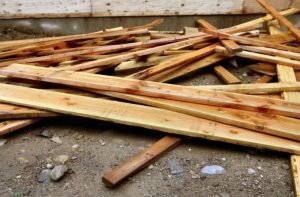 While many still believe that the old way is the least risky way, that isn't necessarily true any longer. The traditional approach just isn't the best way to manage risk when building a custom home today. Subcontractors are busy and suffering from an extreme lack of skilled labor. When you add the unpredictability of weather to their already precarious position of waiting to see who actually shows up to work each morning at a jobsite, each morning becomes a roll of the dice.
That same issue trickles down to everyone in the construction chain. Did the truck driver show up on Monday morning to deliver the load of lumber needed for the framing crew to get started? Did the trim get delivered for the trim carpenters get started? In today's world, why is the home building industry the only industry that is stuck doing it the way it has been done for almost 200 years?
Modular Just Means More
A modular home is designed to provide America's home buyers with a well built, high quality home. It can do this at a value that can only be provided by utilizing the efficiencies of indoor factory construction. Combine that with outstanding design flexibility and high energy efficiency and you have a combination that far exceeds that of a home built using traditional, outdoor construction.
Modular is the fully evolved form of a building system. It completes the maximum amount of work in a factory and delivers modules of a home plan to a home site where it is assembled in LEGO-like fashion. The inherent strength of this building system makes modular homes stronger and more resilient. Families that live in a modular home are safer. The home arrives 65-85% complete. Ultimately, modular is the fully evolved form of home construction.
The post Don't Be a Lemming! appeared first on Impresa Modular.