Must See Design Ideas for a Pet Friendly Home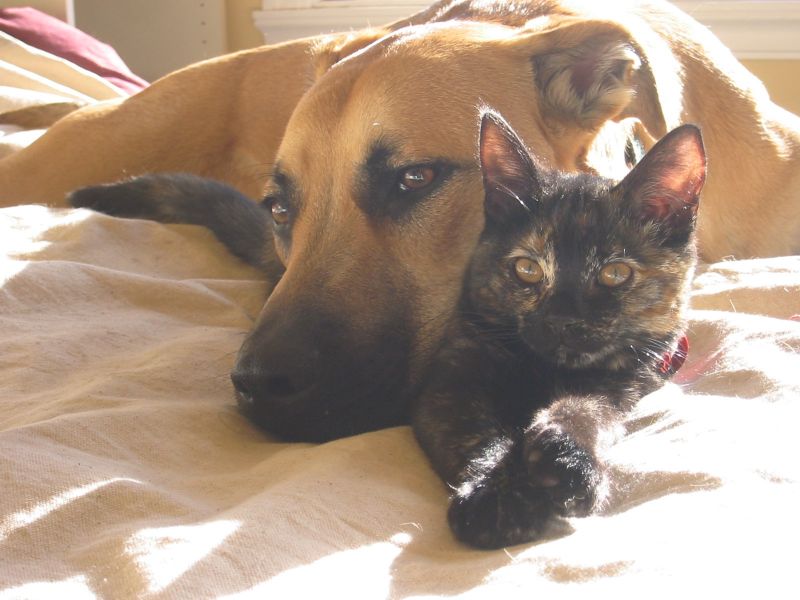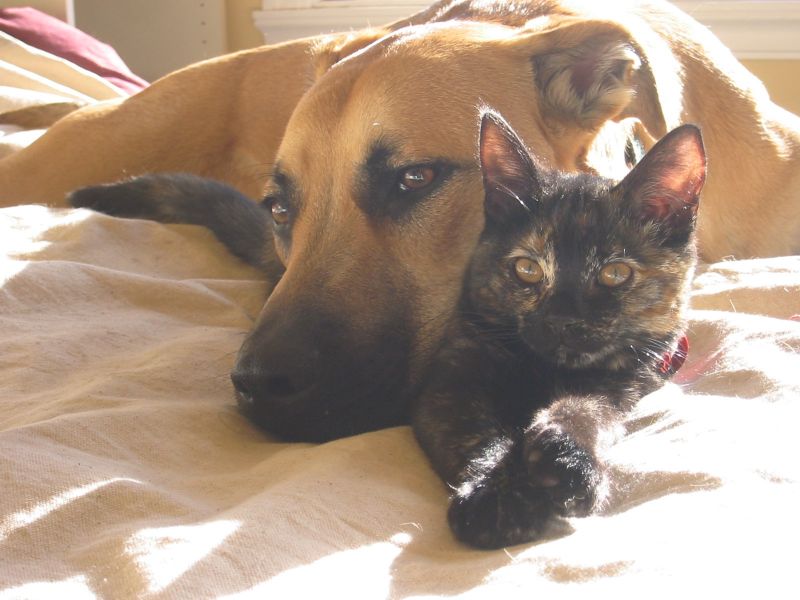 In the U.S. over 65% of households have a pet and in 2015 we spent more than $60 billion on our pets according to the American Pet Products Association. This means that most of America is sharing their home with a pet. When it comes to your home, there are lots of simple ways to show your pet how much you care beyond buying a new toy or pillow.
Here are some great ideas to include when designing your new home to pamper your pet and, in some cases, make your life easier. Check out these great options for sleeping areas, dining spots, and hangout areas to make your home your pet's home.
RELATED: MY (FUTURE) TRIP TO THE MUSEUM OF NEW HOME CONSTRUCTION
Sleeping Spaces
Choosing a place for your pet to sleep is more than just throwing down a blanket on the floor. That may work for the occasional nap but your pet deserves a place to sleep that provides support and comfort. In addition, most pets like the feeling of being in a den type environment.

There are many places in your homes plan that are suitable to design in the perfect sleeping area for your pets that can take advantage of space that is typically wasted and can be great for your furry friend. Areas under steps are great places to get creative with a cozy retreat and sleeping area. A custom cabinet under the counter can provide a great place to create a den-like area in the home.
Eating Spaces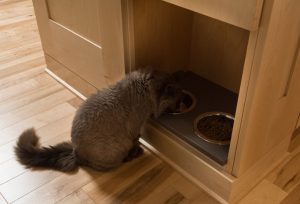 When it comes to eating, there are many spaces in home that just lend themselves to keeping your family friend with the family when they eat. This can be a niche carved out under a bar area, a recess in a cabinet, or a pull out drawer converted to serve the kibble and bits.
Ergonomics can play a big role in positioning the food and water bowl, take advantage of shelves in utility rooms or bench areas in mud rooms to make sure your pet doesn't have to strain to get their food. These areas are also great to contain water and food excesses to just one area of the home.
Clean-up Spaces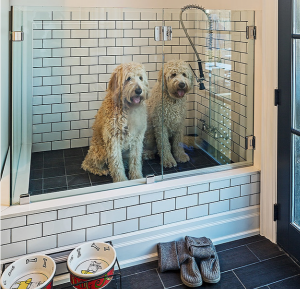 It's important to keep in mind your pet's lifestyle when designing the clean-up spaces in your home. If your dog goes outside a lot, makes sure the mud room or utility room he comes back to is made with flooring that impervious to water. These rooms are perfect places to include a shower or bath area. With some built-in shelves and convenient hooks for towels, your dirty pet will never get past the first line of defense when it comes to keeping your house clean.
Recreation/Hangout Spaces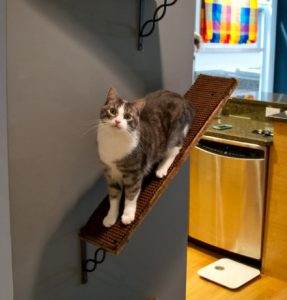 In addition to nap time and sleepy areas, your feline friend loves to explore. There are many great ideas to turn your boring home into an endless maze for your pet. When not exploring the indoors, time can be whiled away checking out what is going outside. Endless design ideas make building a new home exciting to see how spaces can be used to make your homes design just as exciting for your pet.
Potty Spaces
Giving your cat a private place to do their business is more about the owner's comfort than your pets. There are dozens of creative solutions to this issue. A recently trending solution is to install hidden litter box spots in cabinets contained in furniture such as built-in sofas or entertainment units. These areas can have hidden entry points too small for dogs to access.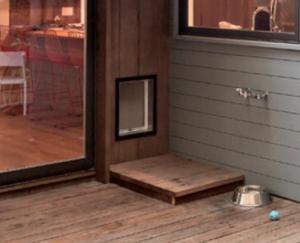 If you have a dog that lets himself out of the house when nature calls consider adding a pet door. Some new models have an insulated flap that can withstand up to 40 mph winds. Today, a pet door doesn't have to be installed in the door. Actually, many models exist today that provide access through the wall beside the entry door. If critters and other intruders concern you, some pet doors come with electronic keys that are attached to your pet's collar (or that can be keyed to your pet's chip) that will automatically unlock the door when your pet approaches.
Adaptive Spaces
Accessibility and Aging-in-Place aren't just concepts in design for people. Our pets age faster than us humans and care and consideration should be given, not just to the type of pet you have, but also their age.
Arthritis and stiff joints can make stairs a challenge for older pets. A ramp outside the front door can help.
Adding Radiant heating systems under tile floors can keep pets, and their joints, warm during the winter.
That recessed shelf allows pet food bowls to be raised off the floor. This can make mealtimes easier for older pets.
When it comes to designing a custom home, modular homes offer flexibility and value that can't be beat. Make sure to check out home plans that can be pet-friendly when designing your new home.
The post Must See Design Ideas for a Pet Friendly Home appeared first on Impresa Modular.